Staff Spotlight: Megan, Veterinary Technician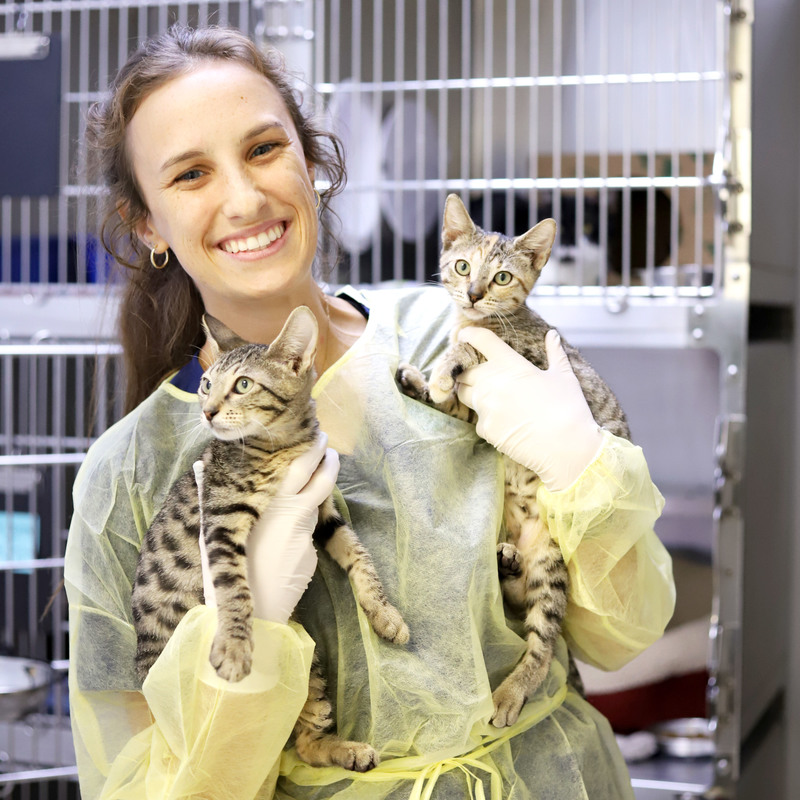 Friday, August 12, 2022
Our Clear the Shelters activity this week is to introduce you to some of our amazing team members (and their favorite adoptables!).
Meet Megan!
Megan is a vet tech on our superpower medical team. Her favorite pets at the shelter aren't ready for adoption yet: she loves our ringworm kitties!
Ringworm is a common fungal skin infection found in both cats and dogs. It's completely treatable, but takes weeks of treatment to solve. Many animals with ringworm are euthanized at other shelters due to a lack of resources to resolve the infection.
Luckily, we have an isolation room for animals who need to be kept separated from the rest of our shelter until our medical team clears them! We also have amazing fosters who are willing to take on the task of treating ringworm, too.
Megan said she loves the "ringworm kittens" because even if they come to us a little less than friendly, they become socialized from the handling they receive throughout their treatment plan and end up being extra sweet and snuggly.
"It's an amazing before and after," she said.
FYI: Our pets have to get a negative ringworm test result before they are put in one of our adoption rooms!
Megan has been at Friends of Strays since April 2022. She comes from an animal shelter background and was excited to work at an organization with a no-kill mission statement.
"The Friends of Strays mission aligned with my own values. I really appreciate the medical team and the Return to Field program," she said.
Thank you for everything you do, Megan!