Staff Spotlight: Jax, ACE Specialist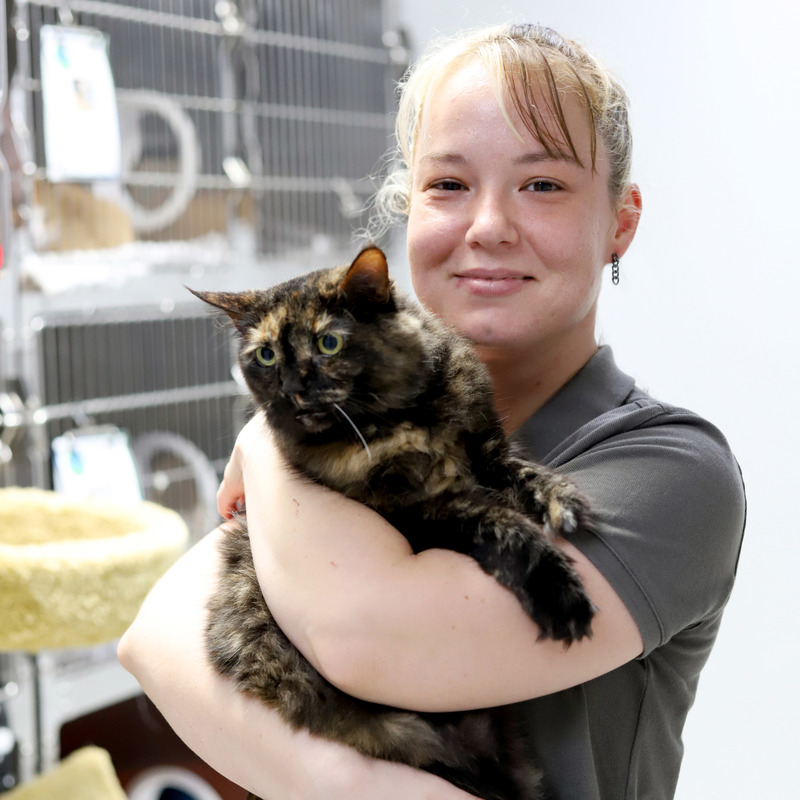 Friday, August 12, 2022
Our C
lear the Shelters
activity this week is to introduce you to some of our amazing team members (and their favorite adoptables!). We couldn't do what we do without them.
Meet Jax! Jax is a member of our stellar Animal Care and Enrichment (ACE) team. Her favorite adoptable is Queen Bee 👑, our longest resident. Jax said she's a "typical tortie:" she lives up to her name and expects her loyal humans to respect her crown!
She puts out a very chill vibe and spends a lot of time napping at the shelter. When in foster, Queen Bee really opened up and was curious and playful. She takes a little time to invest her affection into a person, but once she does, she's sweet and loving -- Jax said Queen Bee greets her whenever she comes in to say hi!
Jax has been with Friends of Strays for almost 2 years. She's also our Happy Cats Crew leader. This group of staff and volunteers works with our cats that need a little extra attention and socialization to help them open up in the shelter.
Their work is so important in helping cats show their true personalities!
"I love Happy Cats and getting to know the volunteers -- I like everything about working here," Jax said. "I enjoy working with the animals who are having a tough time adjusting to the shelter and helping them build a connection with a person. It means something to me, knowing I'm making a difference in their lives."
Thank you for all the work that you do, Jax!
Let's get Queen Bee to her forever castle!